Micro Electric Motors DC,Cylindrical,3V | LEADER
Mubo nga paghulagway:
Miniature dc motors can vibrate with electric which suit some small make or can refit vibratory massager and so on.
FOB Presyo: US $ 0 / Piraso
Min.Order Quantity: 100 Piraso / Piraso
Supply Abilidad: 3000000 Piece/Pieces per Month
Port: Shenzhen
Termino pagbayad: L / C, D / A, D / P, T / T
Ngalan Brand: Pangulo
Pagtukod: Permanenteng magnet
Panalipdi Cebuano News: Hingpit nga Nasikop
Technical Datas: Mahimo nga customized
Detalye Product
Product Tags
A kind of miniature dc motors for a mobile phone. Most interfaces are gold-plated, with silicone cases.
Features of cylindrical motor
1.Saving energy: the energy conversion efficiency is very high and the maximum efficiency is generally more than 70%, some products can reach more than 90% (iron core motors are generally in 70%).
2. Control characteristic: quick starting and braking, extremely fast response, mechanical time less than 28 milliseconds, some products can reach less than 10 milliseconds (iron core motor generally more than 100 milliseconds); Under the high speed running condition in the recommended operation area, the speed can be conveniently and sensitively adjusted.
3. Traction characteristic: very reliable operation stability, speed fluctuation is very small. As a micro motor, the speed fluctuations can be easily controlled within 2%.
4. Other features: the energy density of the coreless motor is greatly improved. Compared with the iron-core motor with the same power, its weight and volume are reduced by 1/3 to 1/2.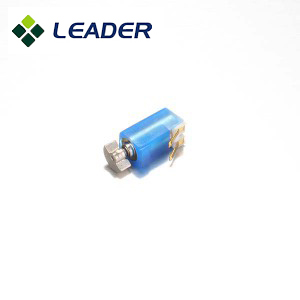 Product Technical Parameters of micro motors dc: 
Dapit sa Sinugdanan

Guangdong, China (Mainland)

model Number

LD8404E2C-A640

paggamit

Mobile phone, Watch and Band,Massagers,Medical apparatus and nstruments

certification

 ISO9001, ISO14001, OHSAS18001

Matang

micro Motor

commutation

brush

Cebuano News

uyog

rated speed

13000 ± 3000rpm

rated kasamtangan

55 MA Max

sugod boltahe

2.0(V) DC Max

rated boltahe

3.0 (V) DC

operating boltahe

 

2.7 ~ 3.6 (V) DC

Kinabuhi

3.0V,1S ON,1S OFF, 200,000 cycles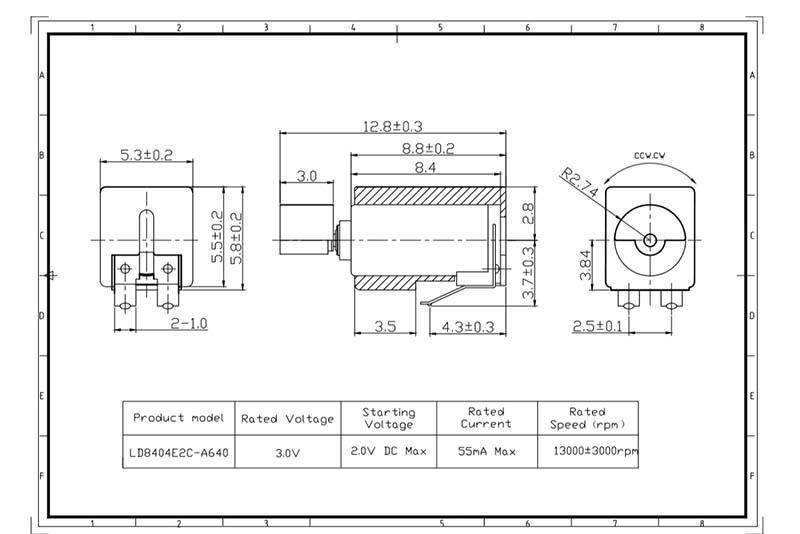 Hot Products
Related Question
1、Where to buy micro dc motors
---
---
May Kalabutan nga mga produkto