Coin Vibration Motors
A coin vibration motor may be used in applications such as smart watches, fitness trackers and other wearable devices. They are commonly used to provide the user with discrete alerts, alarms or haptic feedback. The motors listed below are "brush" type motors and are typically used for consumer grade products where the vibration feature is not the primary feature of the product (moderate duty cycle). The vast majority of products use this type of motor. If however your application requires an exceedingly long motor life time and high MTBF consider using our BLDC Brushless Vibration Motors. These are considerably more expensive than the brush type listed here. Referring to the figures on the BOTTOM of the page, we can supply our vibration motor with a variety o connectors, spring contacts, FPC or with bare contact pads. We can also design a custom FPC for your application. If your application requires it, foam pads of varying thicknesses and/or double stick tape tape may also be added. 3D CAD files are available upon request.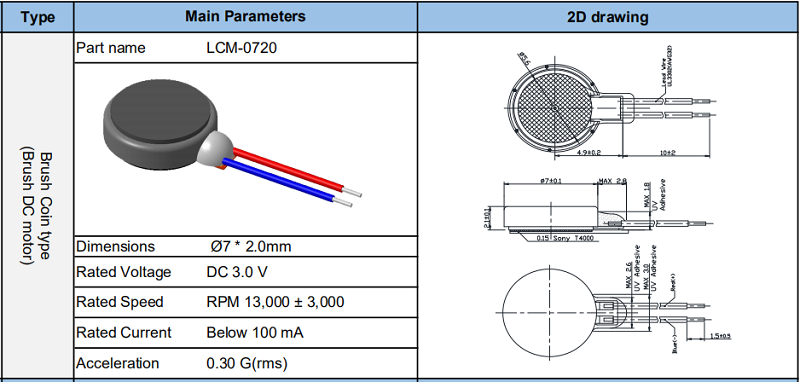 3V 7mm coin type motor of flat vibrating mini electric motor 0720      ASK PRICE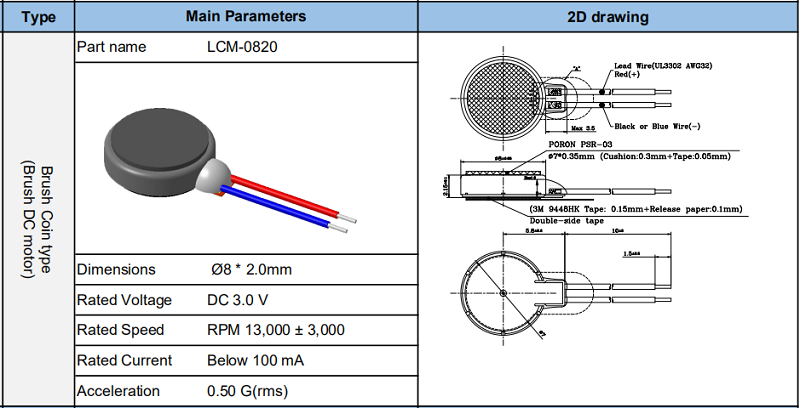 3V 8mm flat vibrating mini electric motor of Coin Type Motor Vibration 0820     ASK PRICE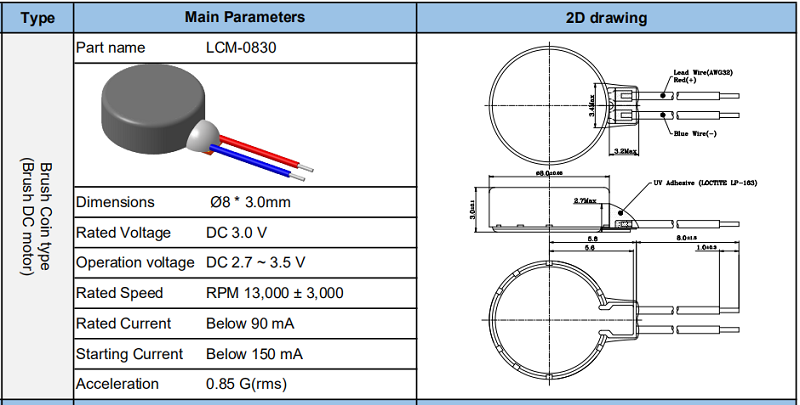 3V 8mm flat vibrating mini electric motor Coin Flat Vibrating Micro Motor 0830     ASK PRICE
Linear Vibration Motor
We manufacture both rectangular and coin type LRA's.
Due to their fast rise and fall times and superior braking ability, linear resonant actuators (LRA) vibration motors are an excellent choice for haptic feedback applications. Their relatively simple internal construction also offers high reliability and exceptionally long life when compared with brushed ERM motors.Leader's rectangular LRA's have an internal mass that oscillates back and forth along the X-axis at its resonant frequency. Our coin shaped linear resonant actuators oscillate along the Z axis, perpendicular to the motors surface. This Z axis vibration efficiently transmits vibrations in wearable applications. In Hi-Rel applications, they are a viable alternative to brushless vibration motors as the only internal parts that are subjected to wear / failure are the springs.
Configuration Type 1: RECTANGULAR / BAR TYPE LRA with Wire Leads
Configuration Type 2: COIN TYPE LRA with Wire Leads
Configuration Type 3: COIN TYPE LRA with FPC
NOTES:
Custom wire length are available for MOQ: 1K pcs
We can add connectors for MOQ: 1K pcs
Custom FPC's are available for MOQ: 6K pcs.
Tooling and design fees will apply for custom FPC's
When compared to standard brushed ERM vibration motors, LRA's are higher in price and must be used with external driver IC.
Unlike conventional brushed DC vibration motors, linear resonant actuators must be driven by an AC signal at the devices resonant frequency. A number of companies make IC drivers for linear vibration motors that supply the correct drive signals and contain a library of haptic effects you can choose from. TI is one such company that makes LRA drivers IC's. TI makes and evaluation board that incorporates the TI DRV2605L haptic driver IC.
Motor For Medical Products Linear motor 0825          ASK PRICE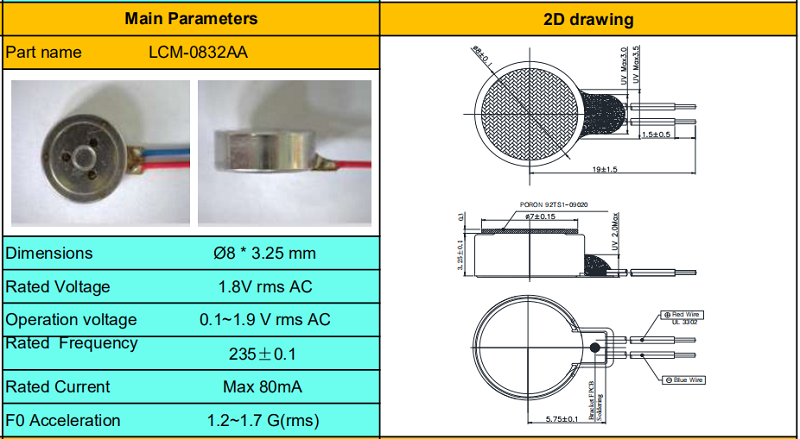 Low Volt Motor of Linear vibration motor 0832      ASK PRICE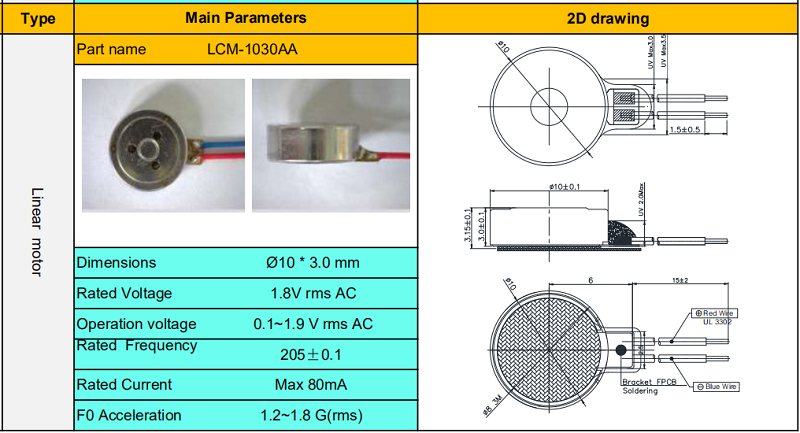 Motor For Mini Fan of LinMini Vibration Motor of Lear motor 1036L      ASK PRICE
BLDC – Brushless DC Coin Vibration Motors
BLDC Brushless coin vibration motors are an excellent choice for high reliability applications requiring an exceptionally long life time / MTBF. Applications where the vibration feature used very often or is used in a medical device should consider a BLDC vibrator motor. These BLDC motors typically exceed the life time of brushed type coin motor by over 10 times. They are more costly than brushed types since they incorporate a driver IC. Polarity must be observed when apply power. Other specs are comparable to that of standard brushed type motors. Custom lead lengths and connectors are available for MOQ: 1K pcs. Custom FPC's are available for MOQ: 6K pcs plus applicable tooling fees.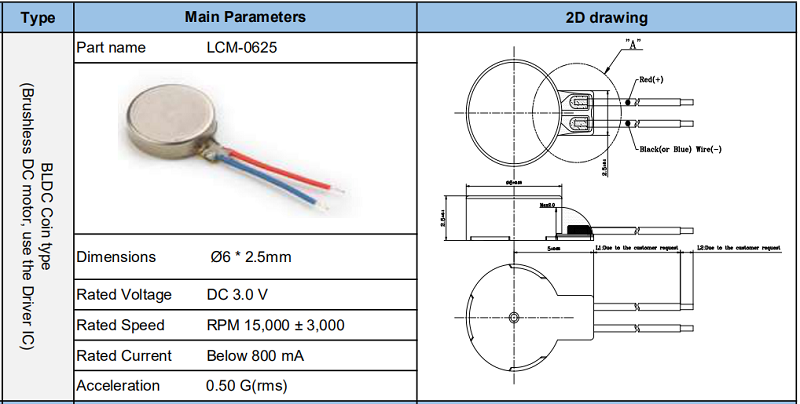 3V 6mm BLDC vibrating electric motor of brushless dc flat motor 0625          ASK PRICE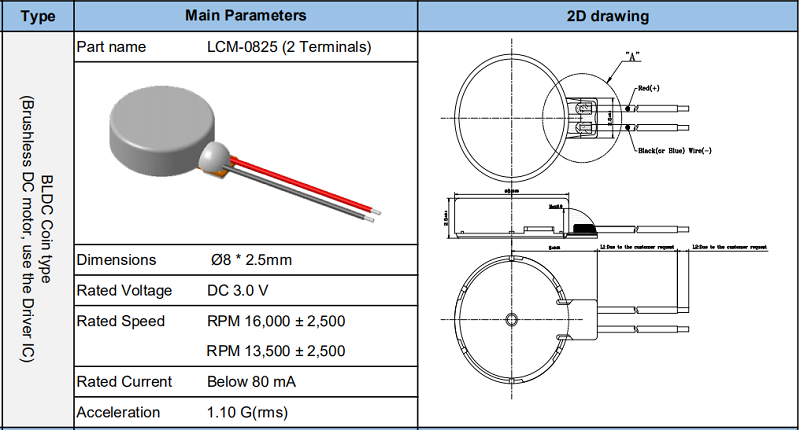 08 Low-voltage Dc Vibrator Motor of Brushless Motor 0825        ASK PRICE
Established in 2007, Leader Microelectronics (Huizhou) Co., Ltd. is an international enterprise integrating R & D, production and sales. We mainly produce flat motor, linear motor, brushless motor, coreless motor, SMD motor, Air-modeling motor, deceleration motor and so on, as well as micro motor in multi-field application.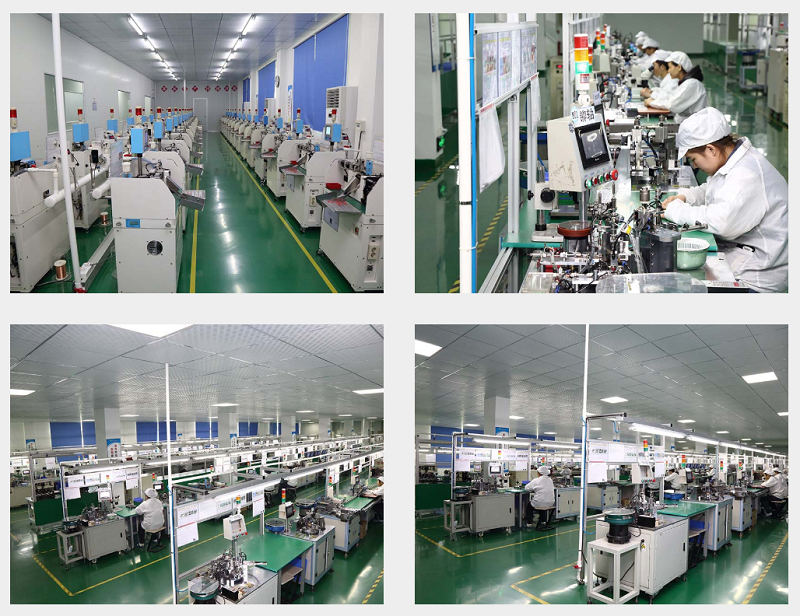 CONTACT FOR THE MICRO VIBRATION MOTOR ORDER RIGHT NOW!
Phone:+86-15626780251     E-mail:leader@leader-cn.cn
---
Post time: Dec-26-2018