Toothbrush Coreless Motor Cylindrical motor LD320802002-B1
Description Gaaban:
test
FOB Price: US $ 0 / Piece
Min.Order Tirada: 100 Piece / Cadad
Supply Kartida: 3000000 Piece/Pieces per Month
Port: Shenzhen
Shuruudaha Payment: L / C, D / A, D / P, T / T
Dhismaha: Magnet Joogtada ah
Isticmaalka: telefoonka gacanta, alaabta lagu ciyaaro ee carruurta, cadayga, waxyaalaha la isku qurxiyo
Magaca Brand: Hogaamiyaha
Ilaali Feature: Toally raacsiisay
Datas Technical: laga beddeli karaa
Product Detail
Tags Product
Cylindrical vibration motors is also called pager motors, the earliest cylindrical vibration motors were used on the pager. When there are reminders and short messages, it will send feedback through vibrating. It is an effective solution to replace sound prompts. Afterwards, as the technology develops, The application to the smart phone above provides various triggering feedbacks, such as information prompt vibrating feedback, incoming call feedback, game vibration feedback and the like. It can also be used as DIY robot, with toothbrush, solar energy to achieve. This mini vibration motor with leads is a brushed hollow cup coreless vibration motor, the efficiency is more than ordinary brush vibration motor, fast response time, long life time, cheap price are all its advantages.
Product Technical xuduudaha ka Motor Cylindrical :

| | |
| --- | --- |
| Iyo meesha Asal ahaan | Guangdong, Shiinaha (Dhul) |
| Number model | LD320802002-B1 |
| Isticmaalka | telefoonka Mobile, Watch oo Band, Massagers, hay'adaha caafimaadka iyo alaabtii |
| Certification | ISO9001, ISO14001, OHSAS18001 |
| nooca | micro Motor |
| Commutation | cadayo |
| feature | gariirka |
| xawaaraha lagu qiimeeyo | 13000 ± 2500rpm |
| hadda lagu qiimeeyo | 90mA Max |
| danab bilaabo | 2.4V DC |
| danab qiimeeyo | 3.0 (V) DC |
| danab Operating | 2.5 ~ 3.6 V DC |
| Life | 3.0V, 0.5S ON, 0.5S OFF, 200,000 wareegyada |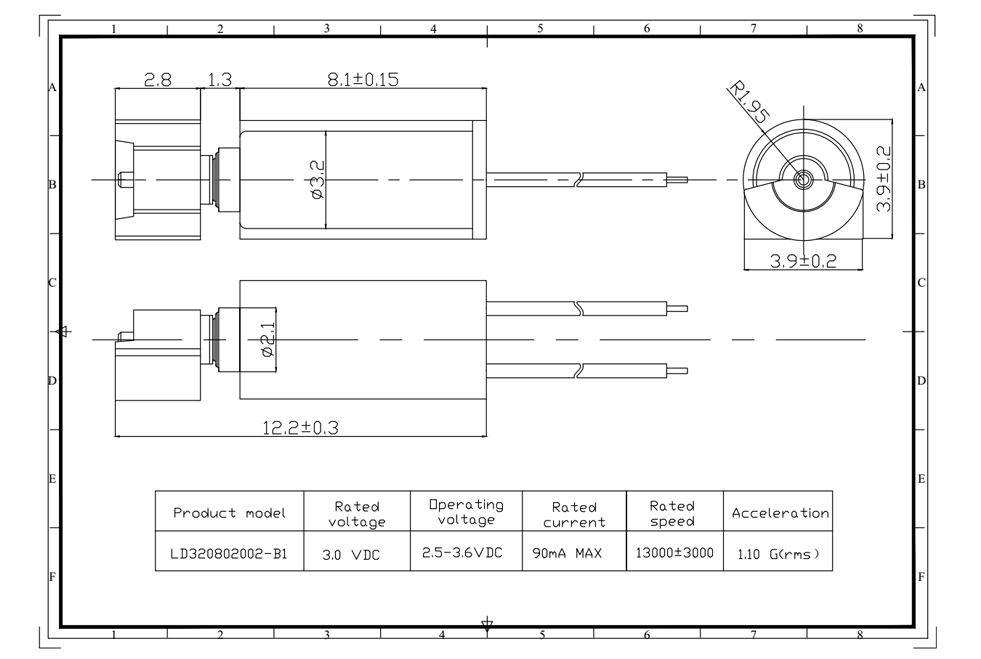 Muuqaaladan ugu weyn iyo qaab-dhismeedka  Cylindrical motor birqaya :
Features Main
1) Qaab-dhismeedka Simple in nooca toosan, fududahay in la rakibo iyo maintation. 
2) Qabatinka qaybaha sare brand dunida caanka ah ee qaybo ka mid pneumatic, qaybaha korontada iyo qaybo ka hawlgalka. 
3) cadaadis sarreeya kumbyuutarradeedu double in la xakameeyo furitaanka u dhintaan iyo xidhitaanka. 
4) Orodka ee automatization sare iyo intellectualization, wasakhaynta no 
5) Codso linker ah si ay ula xiriiraan conveyor hawada, taas oo si toos ah Wabka kartaa buuxinta mashiinka.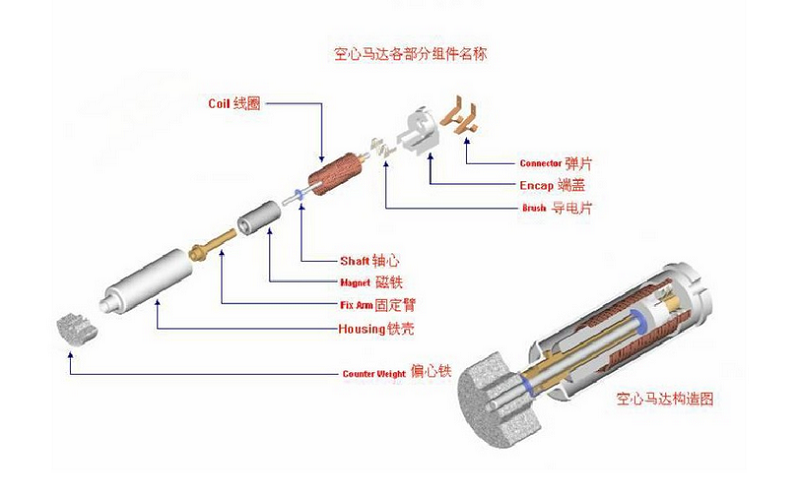 Codsiga waxaa of motor gariirka : 
telefoonka Mobile, telefoonka gacanta, caafimaadka ilkaha, gariiriye, Daryeelka Shakhsi ahaaneed, Doon, Car, Electric Baaskiilka, Fan, mashiinada Game, qalabka Home, wax soo saarka Beauty, Baaqe, daryeelka shakhsiga ah, qalabka wax soo saarka Caafimaadka, Massager, Duugista Rod, Massager Eye, Body Massager, qalajiyaha timaha, timaha Clipper, garka Electric, awoodda qalab Electric, qalabka baabuurta, alaabta lagu ciyaaro iyo wixii la mid ah.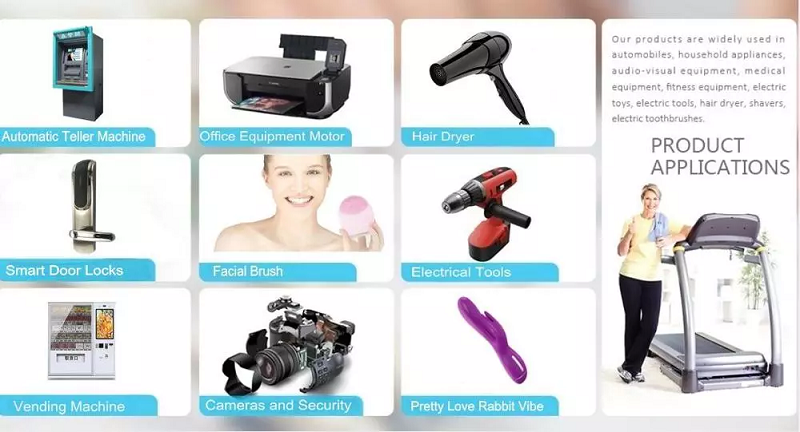 Main Export Markets of Our Mini birqaya Cylindrical Motor:
South Asia: 43%
North America: 27%
Western Europe: 25%
Northern Europe: 5%
Packaging & Shippment:
1. 50 matoorrada drive DC mini in saxaarad kasta PS.
2. Qof walba oo 20 kaabsoosha koox ahaan, dabool caag ah oo ku saabsan kooxda iyo waxa ay dadi cajalad.
3. kooxda duudduubay galay mailkooda ah.
4. kasta 8 inboxes waxaa la geliyaa kiis dibadda by siyaabaha caadiga ah sida sawirka.
5. Tirada iyo tirada Dufcaddii waxaa dushiisa kiiska dibadda ku qoran. Payment & Delivery:
Payment Method:
Advance TT, T/T,Western Union, PayPal, L/C.. Delivery Details: 30-50days dib markii uu xaqiijiyay si gudahood.

Why choose birqaya motor from Leader Micro Electronics?


---
Next:
---