Cylindrical Vibration Motor,Linear,Miniature,DC 3V,3.2mm | LEADER
介绍:
3V 13000rpm High Speed Micro DC Vibration Motor for mobile phone
Country of Manufacture: China;
Material: Metal, Electronic Parts;
Main Color: Silver Tone;
价格:US $ 0 /件
数量:100件/件
供应能力:300万件/月件
港口:深圳
付款方式:L / C,d / A,d / P,T / T
建设:永磁
用途:手机,儿童玩具,牙刷,化妆品
品牌名称:领导者
保护功能:Toally封闭
技术数据:可定制
产品信息
商品标签
Cylindrical vibration motor is also called pager motors, the earliest cylindrical vibration motors were used on the pager.
When there are reminders and short messages, it will send feedback through vibrating.
It is an effective solution to replace sound prompts.
Afterwards, as the technology develops, The application to the smart phone above provides various triggering feedbacks, such as information prompt vibrating feedback, incoming call feedback, game vibration feedback and the like.
It can also be used as DIY robot, with toothbrush, solar energy to achieve.
This mini vibration motor with leads is a brushed hollow cup coreless vibration motor, the efficiency is more than ordinary brush vibration motor, fast response time, long life time, cheap price are all its advantages.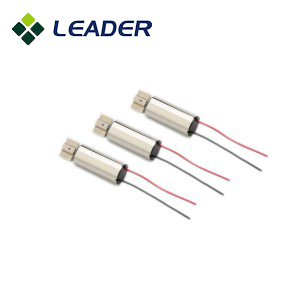 cylindrical motor
| | |
| --- | --- |
| 发源地 | 广东省,中国(大陆) |
| 型号 | LD320802002-B1 |
| 用法 | 手机,手表和乐队,按摩器,医疗器械 |
| 证书 | ISO9001,ISO14001,OHSAS18001 |
| 类型 | 微型马达 |
| 换向 | 刷 |
| 特征 | 振动 |
| 额定转速 | 13000±2500RPM |
| 额定电流 | 90毫安最大 |
| 启动电压 | 2.4V DC |
| 额定电压 | 3.0(V)的直流 |
| 工作电压 | 2.5〜3.6 V DC |
| 使用寿命 | 3.0V,0.5S ON,OFF 0.5S,20万次 |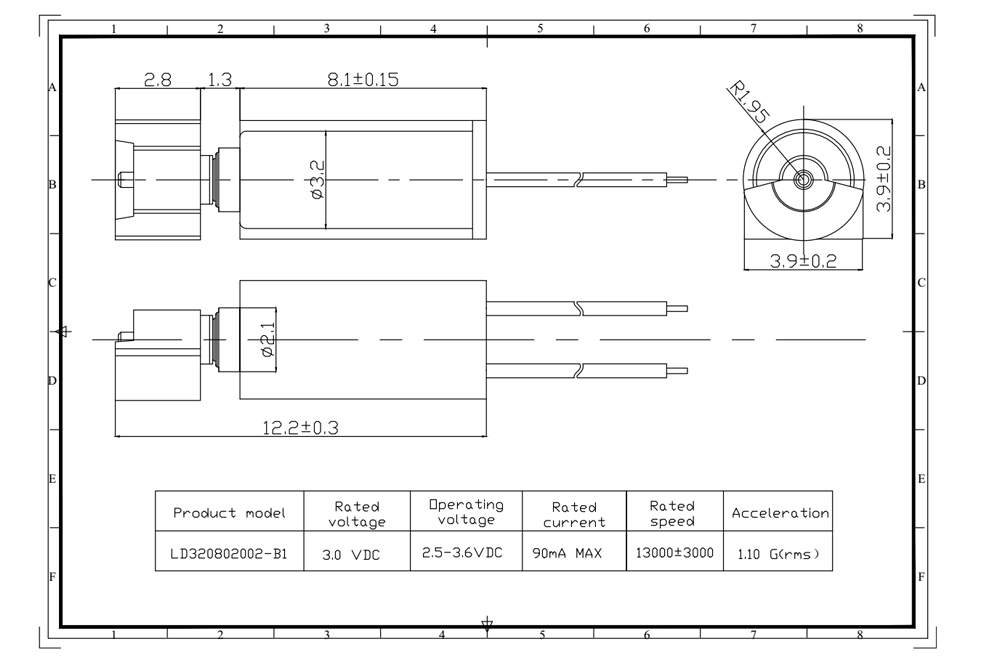 The main features and the structure of cylindrical dc motor :
主要特点
1)结构简单线性型,便于在安装和maintation。 
2)采用气动部件,电气部件和操作部分先进世界名牌元件。 
3)高压双曲柄,以控制模具打开和关闭。 
4)在一个高度自动化和智能化运行,没有污染 
5)应用的接头,以与空气输送器,其可与灌装机直接连接内联。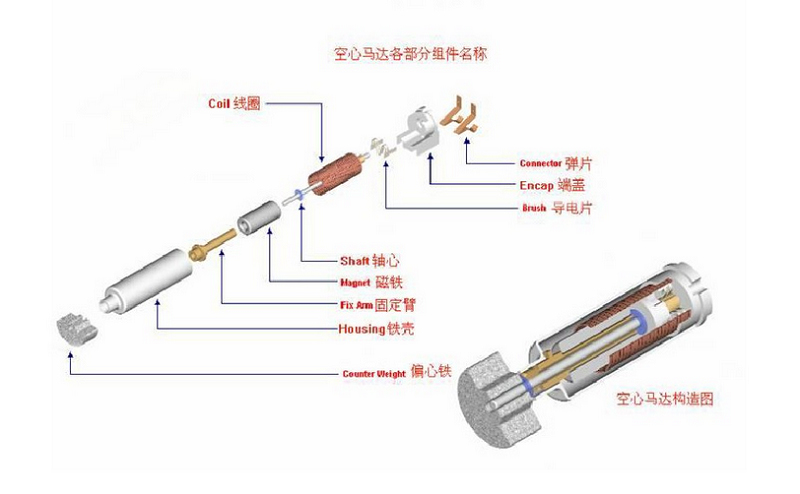 Hot Products:
Related Question
Characteristics and application fields of cylindrical (hollow cup) motors
---
上一个:
线性电动机为轮椅直流电机LD0832AS
下一个:
---