How coin vibration motor working?
Leader Micro Electronic (Huizhou) Co.,LTD, is an experienced ISO9001 supplier of micro DC vibration motors with factory in Huizhou, China and was found in 2007.
With over 10 years of experience in producing low voltage vibrating motors, coin vibrating motors, linear vibrating motors, spur reduction gear motors, permanent magnet motors.
Our team understands the unique requirements of our client. From custom system to stocked items, we will meet your demands in the most effective manner, and providing a full services from designing to producing motors, also including motors packing and the shipment.
We produce customized and high volume demands to order and frequently modify our base (stocked) parts upon the unique requests.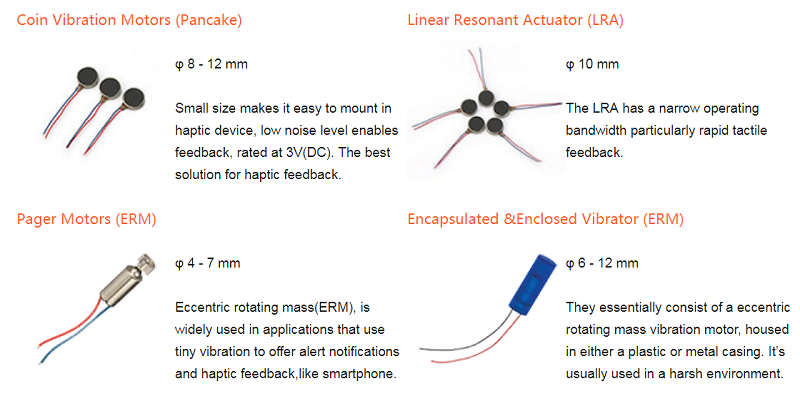 Coin motor & Cylindrical motor applications:

Coin vibration motors
Coin vibration motors, also known as shaftless or pancake vibrator motors, generally in Ø8mm – Ø12mm ; It is available with either an FPC or wire leads. Versions with foam pads and without adhesive are also available. It was designed for devices requiring vibration alerts or haptic feedback.
Coin type vibration motor are compact and convenient to use.
Vibration motor coin integrate into many designs because they have no external moving parts, and can be affixed in place with a strong permanent self-adhesive mounting system.
Enclosures can easily be moulded to accept the coin form of our shaftless vibration motors.
Coin lra vibration motor Applications
Due to their small size and enclosed vibration mechanism, coin vibrating motors are a popular choice for many different applications. They are great for haptics, particularly in handheld instruments where space can be at a premium:vibrating table motor,vibrating pager motor,vibrating motor radio shack,vibrating cell phone motor,furnace motor vibrating,toothbrush vibrating motor…
If a higher vibrational force is required, please consider using one of leader's larger sized coin vibration motors. These motors range from 8 mm to 10 mm in diameter and can generate vibrational forces of up to 1.35 G.leader@leader-cn.cn
---
Post time: Aug-06-2018