1. The origin of electric toothbrush
In 1954, Swiss physician philippe-Guy Woog invented the first wired electric toothbrush, and Broxo S A manufactured the first commercial electric toothbrush, named Broxodent.In the following decade, electric toothbrush gradually emerged and entered Europe and America and other developed countries.
After 1980, the electric toothbrush in the form of movement and frequency have been constantly improved, there are various forms of movement.Acoustic vibration type cleaning ability and experience more prominent.
Sanicare sonic vibrating toothbrush was invented by David Giuliani in the 1980s. He and his partners founded Optiva and developed sonicare sonic vibrating toothbrush.The company was acquired by philips in October 2000, establishing philips sonicare as a leading player in sonic electric toothbrushes.
Oral-b is a brand of toothbrush and other toothbrush care products. Your Gillette bought oral-b in 1984, and procter & gamble bought Gillette in 2005.Oral-b pioneered the vibration-rotation technology in 1991 and has published more than 60 clinical studies that have demonstrated the excellent performance of the vibration-rotation technology in electric toothbrushes.Oral-b toothbrushes are also well known in the field of mechanically rotating electric toothbrushes.
Electric toothbrushes are imported from abroad, and the current electric toothbrushes produced by Chinese companies basically follow the style of these two companies.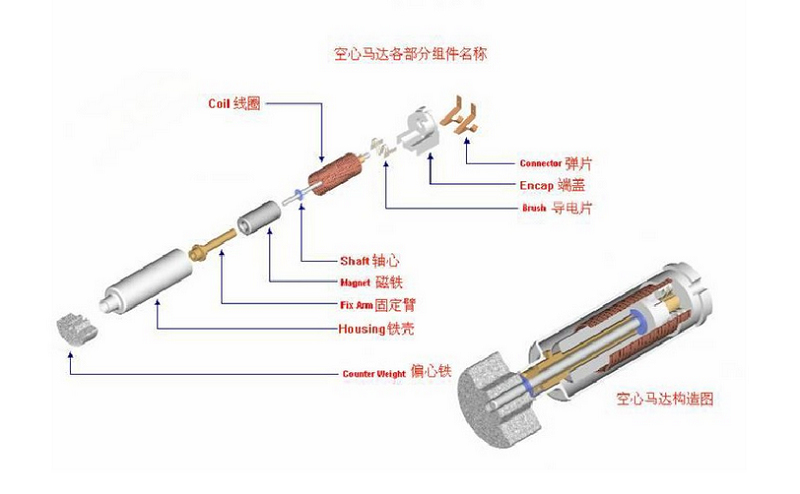 2. Principle of electric toothbrush
The principle of the electric toothbrush motor is simple. Similar to the vibration principle of a mobile phone, it vibrates the whole toothbrush by means of a hollow cup motor with an eccentric hammer built in.
Ordinary rotary electric toothbrush: a hollow cup is used to rotate the motor, and the movement is output to the position of the brush head through the Cam & Gears mechanism. The position of the brush head also has the corresponding swinging mechanical structure, which converts the rotating motion of the motor into left-right rotating motion.
Sonic toothbrush: based on the principle of high frequency vibration of magnetic levitation motor, the electromagnetic device is used as the vibration source. After energizing, the electromagnetic device forms a magnetic field, and the vibration device is suspended in the magnetic field to form a high frequency vibration frequency, which is then transmitted to the brush head through the transmission shaft.This vibration principle does not generate mechanical friction inside the motor, with strong stability and large output power. The generated sound wave frequency can reach 37,000 times/min. Due to the small friction of the magnetic suspension motor, even at a high speed, the noise is within the acceptable range.
---
Post time: Oct-11-2019